Tapestry Throw Customized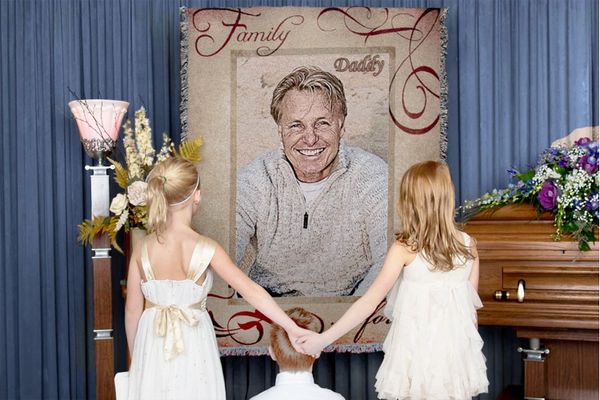 Tapestry Throw Customized
Customized Tapestry Throw
Custom Picture may be emailed to: condolencestore@hotmail.com
Photo must be in J-PEG format and of High Resolution.
What makes the product unique? These funeral blankets are unique because the image is woven into the blanket–not simply printed. Also, the size of the blanket, 4.5′ x 6′, means it has significant impact when first revealed to a family. They are machine-washable, non-fading, and designed to be well-used, loved, and cherished. Much like Linus's security blanket, these are more than just blankets: they are allies, offering families comfort and a point of stability in a world that often feels like it's spinning out of control.
A Tribute Blanket from The Condolence Store is a guaranteed hit with your loved ones, both during the service and long afterwards. Each blanket:
Acts As a Centerpiece in the Memorial or Funeral Service

Generates referrals for future services

Becomes a Precious Heirloom Displayed in Their Family Room
Families will cherish the blanket forever and talk about the unique gift you provided. The Blanket is a guaranteed hit that will be a centerpiece of the memorial, become a precious heirloom displayed in their family room, and create added service value that is many times the cost of the blanket.