Live Plant Dwarf Schefflera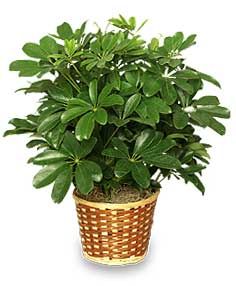 Live Plant Dwarf Schefflera
Light
Dwarf Schefflera needs a good amount of light for proper and healthy growth. The Schefflera should not be exposed to direct sunlight, so it should sit in an area of your home where the sunlight is bright, but diffused.
Placement
Patio, Livingroom, Breakfast nook
Water Habits
Dwarf Schefflera will grow best when watered thoroughly and then allowed to dry completely. Water the soil until it becomes very dark. Allow the soil to dry before the next watering. Potting the plant to allow for proper drainage will help guard against over watering. Over watering may cause the leaves to drop.
Temperature
Ideal Temperature for Dwarf Schefflera: 35-80°F (2-27°C) Min: 35°F (2°C)
Toxins Removed
Formaldehyde, Benzene
Did You Know ?
The Dwarf Schefflera is known in the botanical world as the Heptaplerum arboricolum. It is an ever green shrub that can reach as tall as 10 ft if left in the proper environment with the appropriate amount of growing space. This plant is well known for its ability to survive while being neglected or in what can be considered poor growing conditions. The Dwarf Schefflera is known to originate from Taiwan.