Live Plant Corn Plant In Basket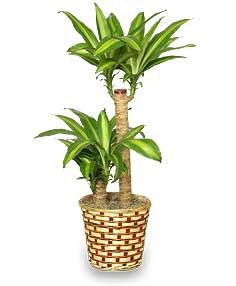 Live Plant Corn Plant In Basket
The corn plant is an oldie but goodie in the houseplant industry. Europeans have been using them as indoor plants since the mid-1800s and they've been popular in the United States since the early twentieth century. Corn plants are grown as thick canes that sprout from buds along the cane, achieving a "false palm" effect (they're sometimes called false palms). They make good houseplants because they are tall and narrow, with controlled growth, and can withstand a fairly significant amount of abuse from casual indoor gardeners.
Growing Conditions:
Light: Try to locate them near a window with filtered sun. Too little light will result in leaves losing their stripes.
Water: Keep evenly moist, but if you have to err, do so on the dry side.